Role: I coached the business owner in writing her business plan
Project goal
A motivated, technically savvy lady had a plan to set up an online business integrating drop shipping with fast delivery from stock in Europe. She was so excited and had a hundred ideas racing around in her head but no plan of how to actually "do it!"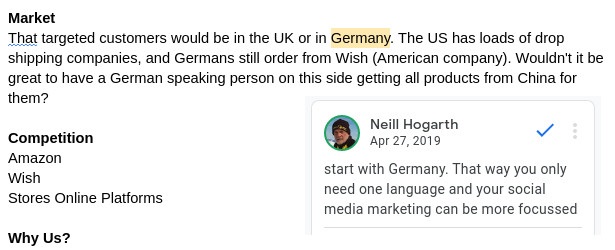 She was not looking for someone to "do the work" but rather some one to coach her in how to plan and organize things herself.
Solution
We communicated and I quickly convinced the young lady to write a business plan, not to convince investors or potential partners but just to have a structured overview of what she was aiming to achieve, projected costs and earnings and how she was going to do so.
I provided the list of headings and she worked on adding the information for each capital. We conversed via video chat and used Google Docs to write which meant that as she wrote I could add my comments, suggestions and questions. The use of a collaborative document is vital to avoid multiple copies being produced and information lost. With Google Docs we could work independently or together in real time.
The project was small, the customer was totally motivated and very quickly we had a completed document that was then the template for her successful realization of the online shop.