Role: The consultant tasked with saving the company from its own success
Project goal
A telecommunications company was descending in to chaos. Whole towns and swathes of countryside needed fast Internet and this company was the only provider with a working affordable solution. The government was handing out subsidies and the firm was perfectly placed to win bid after bid. Landing contracts was possible just by making a collection of promises and naming a price. Delivering on the promises was a continuing nightmare.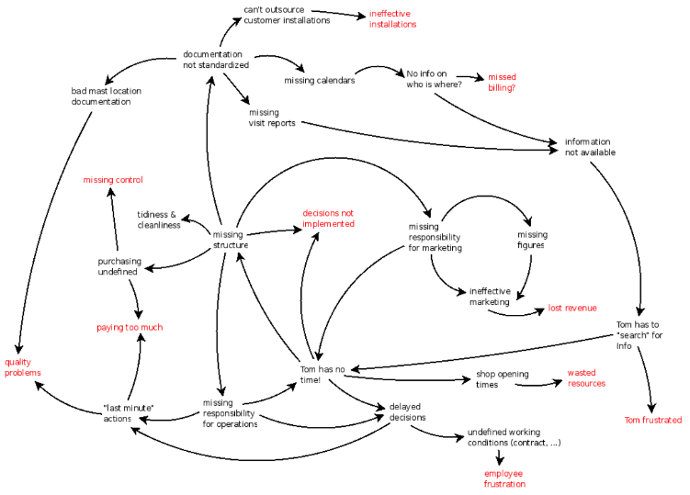 The company was centered round the typical "inventor/technician" – great on ideas, awful on planning, organizing or finance. The owner was incapable of delegation but equally unable to manage people or processes himself. The motivated team was disorganized, lacked co-ordination and was ineffective. Everyone wanted to be responsible for the fun stuff but anything difficult or unpleasant was generally shirked or delegated sideways.
Customers were not being delivered as promised, employees were frustrated and becoming less motivated, suppliers were losing interest in delivering and the company was bleeding money and descending in to bankruptcy.
Solution
The fundamental problems in the company were not "hard and obvious" but more of a "mess" so I adopted a soft systems approach and began with in depth interviews of every employee, selected customers and suppliers. I promised individual anonymity but received agreement that I could use the aggregated results.
With the huge amount of information I received I went through the multiple stages of a soft systems analysis and produced multiple sketches and diagrams to visualize the problems and find the fundamental roots. There were multiple themes that needed to be dealt with but I identified the lack of structure and delegation as the primary area to be rectified.
The fundamental improvement was to define processes, allocate and empower process owners and then assign tasks, personnel and resources to each process unit. An organisational chart, defined process flows and clear responsibilities were the results on paper but more important was the "real life" results.
– a less stressed owner,
– motivated, effective employees,
– a growing, happy customer base
– a positive cash flow and (ultimately) a very profitable business.
An aside – This project took place in 2009. At that time I was completing an honours degree at the Open University via distance learning. I used this situation and its solution as the basis for my final project. After completion I was contacted by the University and informed that my work had been selected to be published as an example for future students. With my clients permission, and after changing names and locations, I agreed to publication. The complete work can be downloaded from the Open University. Hogarth, N. (2009). Searching for, and implementing methods to improve the efficiency of HeidiDSL.